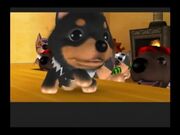 The Pooch Fashion Collection is a fashion show that Malshige often participates in.
Models
The models are Peter, a Black and Tan Pomeranian, and a brown Doberman.
Preperations
In order to prepare for the Pooch Fashion Collection, you need to complete the two tasks that Malshige gives you. The first one is to find the Beautiful Feather. The second is to find a model.
Ad blocker interference detected!
Wikia is a free-to-use site that makes money from advertising. We have a modified experience for viewers using ad blockers

Wikia is not accessible if you've made further modifications. Remove the custom ad blocker rule(s) and the page will load as expected.