Mary Theresa



Location(s)

Breed

Hat

Glasses

Other

None

Quote

"I can't believe the princess likes bugs..."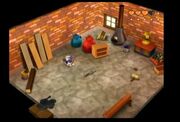 Mary Theresa owns a Furniature Dealer next to Malshige's Fashion Store in Pupsville. While you cannot order anything for her, she still needs help with a few things- delivering everyone else's orders for a start. Noble is a genuine customer, and buys some Expensive furniature for a princess which Mary has heard is staying at his house. But when the princess doesn't like it, Mary will need you to get some cork so she can make a bug cage and a fish tank. Why does that princess like bugs?
Ad blocker interference detected!
Wikia is a free-to-use site that makes money from advertising. We have a modified experience for viewers using ad blockers

Wikia is not accessible if you've made further modifications. Remove the custom ad blocker rule(s) and the page will load as expected.