Knuckles



Location(s)

Breed

Hat

Red Checked Cap

Glasses

None

Other

Unknown Neck Item

Quote

"Last year at the Festival... my sister met a nice boy. And now they're getting married!"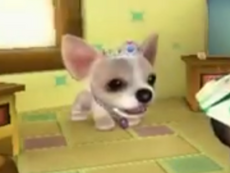 Knuckles is a chihuahua who works at a shop in Puroro Town, although it is never shown what she sells. Knuckles claims they sell Marlin, but again, there is no evidence they do.
When talked to, Knuckles mainly complains how she doesn't like work. Sometimes, she'll tell you a story of her sister and how she met a nice boy at the Star Festival and now they're getting married. Viviana even mentions this story, and then wishes she had more romance in her life.
When the player goes back to Puroro Town later in the game, Knuckles isn't present at the shop.
It is unknown who Knuckles' sister is, or the boy her sister promised to marry.
Some fans hypothesized that when the player returned to Puroro Town, Knuckles quit her job.
Knuckles has the same chihuahua model as Kristina, and both of their names even start with "K".